Source: Greenpeace New Zealand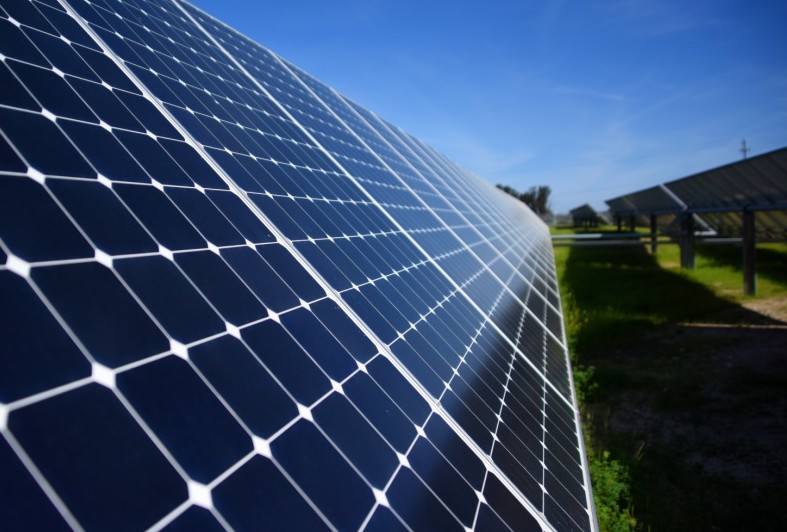 Supporters like you drive the moment for a green and peaceful future, and none of it would be possible with you. Thank you! You are Greenpeace. Read about some of the amazing things you are making happen below.
How you powered the call for a Green Covid Response
As the world grappled with the Covid-19 crisis, you helped to create an overwhelming public call for the Government to  "build back better". 
Your support meant we were immediately able to mobilise (digitally, of course) to call upon the Government to invest in a hopeful future. One that protects our precious rivers, oceans, forests, wildlife, climate, and people. Thousands of New Zealanders submitted ideas and signed our petition for a Green Covid Response.
We presented this plan to Ministers and government departments and public support for it continues to grow. Thank you! 
Support a Green Covid Response by signing on here.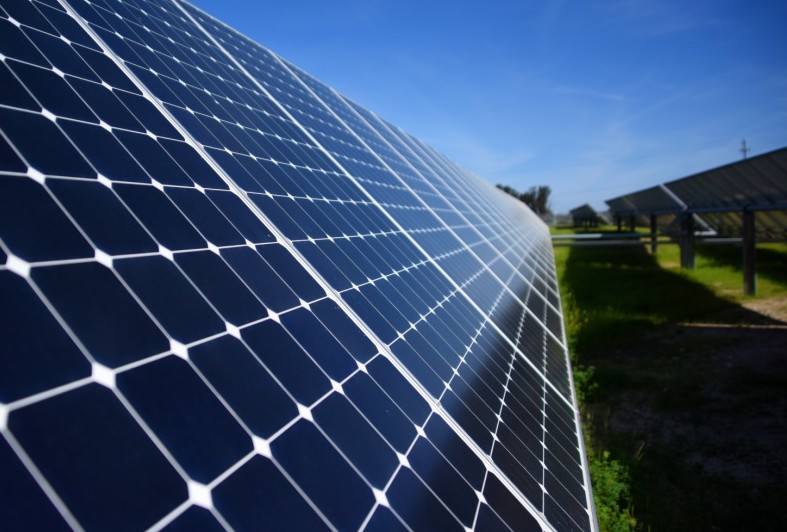 You're supporting a regenerative agriculture revolution
What is regenerative farming? 
Regenerative agriculture is a way of farming that works in harmony with nature, rather than against it. In short, it's about diversity instead of monocultures, building soil health instead of degrading it and using natural systems instead of costly and harmful inputs like chemical fertilisers. It also draws heavily on indigenous knowledge.
What is your support helping achieve for regenerative farming? 
We have launched a proposal calling for a $1 billion investment in a shift to regenerative agriculture. This fund would: 
Provide one-off grants for regenerative farming practices
Construct plant-based food manufacturing facilities and more small-scale, food, fibre and timber processing facilities.
Invest in research and development, training and advisory services for regenerative organic farming
Construct organic compost and seed production facilities
Finance the fencing and replanting of streams, wetlands and marginal land.
Sign on to support regenerative agriculture here.

How you're taking action for our rivers!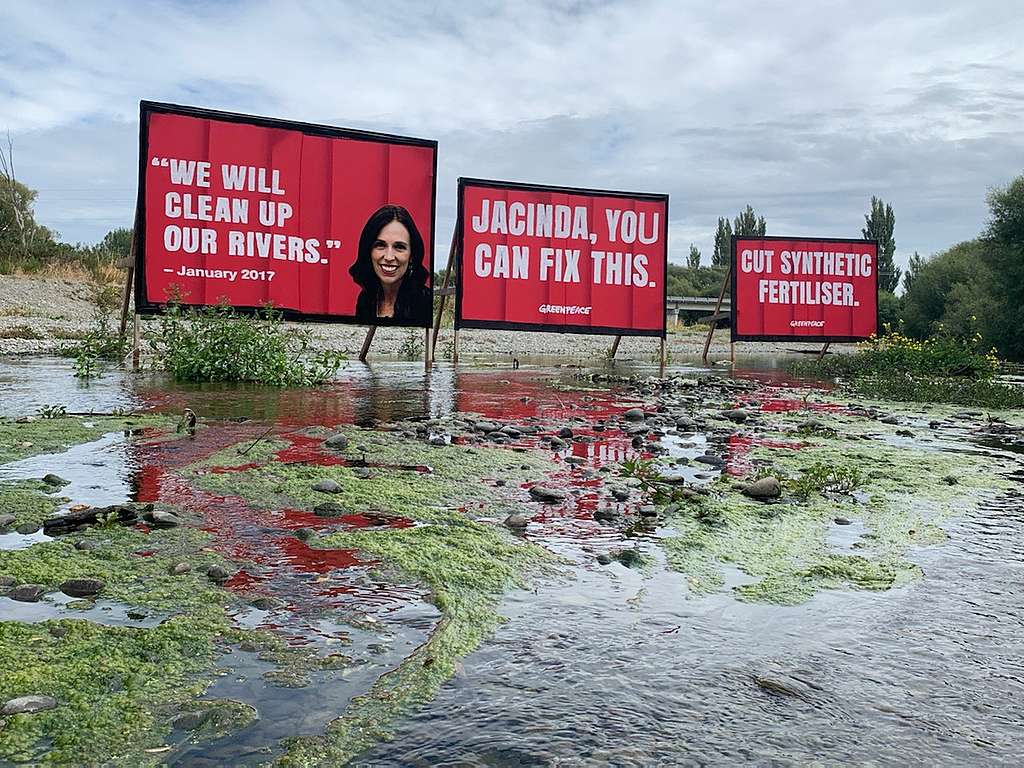 In March this year, management at synthetic nitrogen fertiliser company Ravensdown in Christchurch, arrived to work to find their offices coated in 350 litres of green slime! 
Ravensdown's synthetic nitrogen fertiliser is used all over the country to intensify dairying operations, enabling more grass growth in order to farm more cows. Your support helped Ravensdown get a taste of their own medicine and draw public attention to this issue. 
Thanks to your support, the Government announced a limit on how much synthetic nitrogen farms can use. However, we need to keep up the momentum so it is phased out completely. 
How you've supported a strong Global Oceans Treaty 
Your support has been crucial in the quest for a strong Global Oceans Treaty at the UN so far with the Pole to Pole voyage from the Arctic to the Antarctic, and a whole heap of policy and lobbying work. We were ready to attend the next round of Treaty negotiations set to begin in April, however, due to the Covid-19 crisis, the meeting has been postponed. Rest assured, your ongoing support means we're still doing everything we can behind-the-scenes to ensure that when the meeting does happen, we can secure a treaty that opens the door to ocean sanctuaries across 30% of the globe.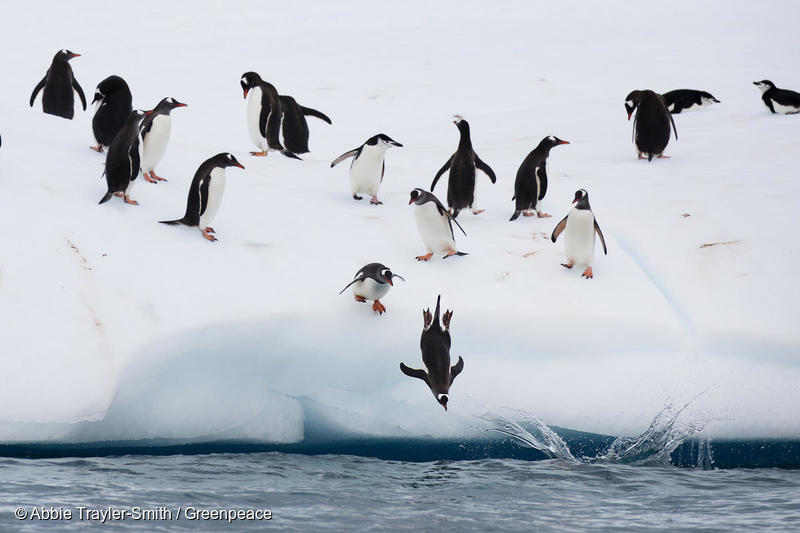 Sign the petition for a strong Global Oceans Treaty here. 
How you're fighting seabed mining 
You helped secure a monumental victory for New Zealand oceans. Trans-Tasman Resources (TTR) sought permission to mine the seabed off the coast of Patea for years, and we have been engaged in a lengthy court process to try and stop them. 
In April, the Court of Appeal upheld their decision to deny the massive mine, which would have threatened Māui and Hector's dolphins, New Zealand's own pygmy blue whales and little penguins.
This ruling follows a legal battle spanning six years, and relentless campaigning by Greenpeace, iwi, community and other environmental groups. Amazing team effort! 
You're supporting the new campaign to ban the plastic bottle!
You helped ban plastic shopping bags…so what's next? Now we've launched a campaign to ban single-use plastic bottles. For too long, corporations have continued to pollute our planet with plastic bottles, pushing the blame onto the consumer. But it's time to make a change!
Sign the petition to Ban the Bottle if you haven't already! 
You evicted oil giant OMV
You did it! After a decade-long fight against Big Oil in New Zealand, OMV, the last oil giant searching for new oil in NZ, announced it is indefinitely postponing its last remaining oil and gas exploration plans in the Taranaki Basin.
Over the last year, supporters like you enabled the escalation of our campaign against OMV. Climbers strung 'Evict OMV' banners and wrote on the windows of their offices – the tallest building in Wellington! Nearly 30 protestors occupied their oil rig's support vessel for three days in Timaru, delaying drilling. More than 100 people shut down their New Plymouth office for a further three days before we turned it into a museum on the fourth. 
With all this and a bit of bad luck for OMV, the Austrian oil giant has finally quit its exploration campaign and sent its massive drill rig home. This couldn't have been achieved without your support. Thank you and well done!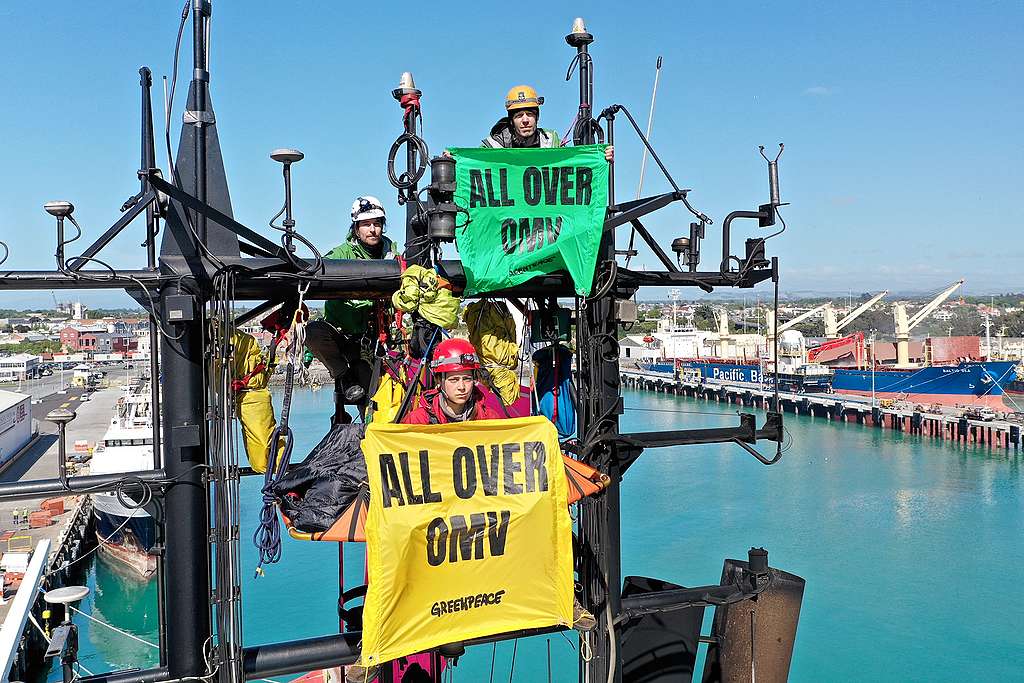 How you've been taking action online 
The past few months have looked a little different for actions and mobilisation. While we haven't been able to gather together in person, we have found creative ways to come together, share ideas, connect and get our voices heard regardless. 
Whether it's been signing petitions, sharing blogs, sending tweets, coming to one of our online events or even chatting to us on the phone or by email – thank you for continuing to take action for our planet, and for being a part of this amazing community during this crisis. 
Thank you once again for all that you do. This Earth-saving work could not happen without you.